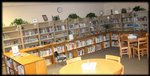 Bells Elementary Library
I am Ms. Lydia, your child's librarian. Your child will visit me every week in the library. We learn many wonderful things from books. I strive to ensure that all our students learn to love reading and books, as they grow and mature at Bells Elementary School. Students of all ages can learn to appreciate reading and books. All students love for adults to take the time to read to them, and to listen to them read as they grow. Please spend some time with your children as they read. Ask them questions about what they are reading. Ask them about their AR tests and the books they are reading in AR. Your children love to talk about what they are learning in the library, as well as what they are learning at school everyday. Our "little ones" are only little for a very short time. Enjoy being with your children and open a book to see where it takes you!
Welcome to 2017-2018 School Year!
I am looking forward to spending time with my students as we learn to enjoy the art of reading. I will be reinforcing the reading skills that the students are learning in their classrooms, in the library. We will use books and other forms of literature to review the skills that are taught each week.
Accelerated Reader will also play a big part in helping students improve their reading skills. We will take the STAR test to determine each child's appropriate reading level. Students will check out books on their level to read and test their comprehension. Please encourage your child to read! Reading is the key to success in school, as well as in life!
Please encourage your child to take care of his/her library and textbooks. These books are very expensive and if your child damages or loses a book, they will have to pay for the book to be replaced. We want to encourage our students to be responsible with things. Learning to be responsible is a goal that will carry over into all areas of your child's life.
I will do my best to encourage your children in all they do. I will expect them to be on their best behavior while visiting the library. I have high expectations and want success for every child! I will respect each child and I expect them to respect me in return. I look forward to our new year together! Welcome to the library where the world is an open book!
Love to all,
Miss Lydia
Don't Forget Your Library Books!!!
Library Schedule for 2017- 2018
8:00-8:45
M-Lewis R-Emison F- Lee
8:45-9:30
M- Smith T- Beach R- Crossnoe
10:00-10:45
M-Aden R- Hart F- Mayfield
10:50-11:35
M-Davis T-Pyle R- Blanton F- Curl
12:10-12:40
M- Howell T-Crook W- Breland
12:45-1:30
T- Palmer R-Runions F- Bray
1:35-2:20
T-Gooch W- Averitt F-Cecil
Thank you for spending time in the library!
Reading is fun, especially with you!
50 Must-Reads for Every Grade!

Expert teachers, librarians, and book professionals created the SpotLit collection, a selection of 50 books kids should read in each grade from preschool to middle school. Explore the curated list of titles, all available from Scholastic Reading Club!

Check out the SpotLit Collection
10 Non-Book Ways to Get Your Child Reading
1. Play board games. Scrabble or Boggle are specifically good for building vocabulary and spelling.
2. Collect trading cards. There are card series to appeal to most interests, from sports to space travel, Yu-Gi-Oh! to Beanie Babies.
3. Learn "how to." Is there something your child would really like to do, such as perform magic tricks or add sequins to her jeans? Encourage her to find out how by reading about it.
4. Get cooking. Invite your child to help you bake a cake or a special meal together. If necessary, simplify and rewrite a recipe's instructions so he can read it to you.
5. Make cards. Have your child make her own cards for holidays, birthdays, party invitations, and thank-yous. Help her write a personal message to each recipient.
6. Create signs and labels. Help your early reader build his vocabulary by creating stickers or signs for his room that identify toys or furniture: "bike," "desk," etc.
7. Take a road trip. Write down travel directions and have your child serve as navigator when you drive. Give your co-pilot a map before you go, and ask her to mark the route according to the directions.
8. Put on a play. You can perform the play for a special celebration or family party. Help your child find an appealing script or create one together based on a favorite movie. Remind your child that he must memorize his lines by reading them over and over.
9. Write messages for your child. Even if you spend hours together in the same room, there are many reasons to write to your child. Drop a letter in her school bag or email her a joke she can forward to her friends. Post a list of chores on the refrigerator, and write family news or appointments on a wall calendar.
10. Host a scavenger hunt. Make a list of items that your child and his friends need to find inside your house or around the neighborhood. Provide written clues that lead to the treasures.