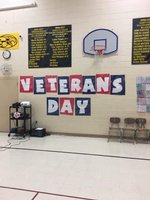 See Clubs & Organizations, Student Council, photo album for more pictures from our program

*What Veteran's Day means to us:* by Mrs. Sally Smith


*V* is for *VETERAN'S DAY *which is celebrated every year on November 11th in the United States.

*E* is for *EVERY* American who has served our country for our FREEDOM in
the military.

*T* is for *THANK YOU* for the time you gave.

*E* is for *EAGLE* the symbol of the National Bird of the United States.

*R* is for the *RED, WHITE AND BLUE * the colors of our Nation's flag.

*A* is for *ALWAYS* ready for the call.

*N* is for our *NATION* whom you proudly served.

*S* is for the *STAR SPANGLED BANNER* which is our national anthem.



*D* is for *DEMOCRACY* which means government of the people, for the people and by the people.

*A* is for *"AMERICANS * that are made up of different cultures with a
common idea that people should have the freedom to live the way they want,
and to work and earn money the best way they can. These freedoms have
inspired people from all over the world to come to this country and become
"Americans."

*Y* is for *YOU* whom we honor today for all that you did to help insure
our freedom.